HTS has identified the top 5 therapy clinical outcome focus areas for 2021 based on our experiences from 2020 which makes us better equipped to overcome COVID-19 related obstacles. Furthermore, after attending a 15-hour training and certification process, HTS management staff have all become "PDPM Masters." These additional "feathers in our cap" allow us to uniquely champion process improvement initiatives alongside your interdisciplinary team. As HTS continues to identify opportunities for clinical growth, a key process improvement area will be discussed each month.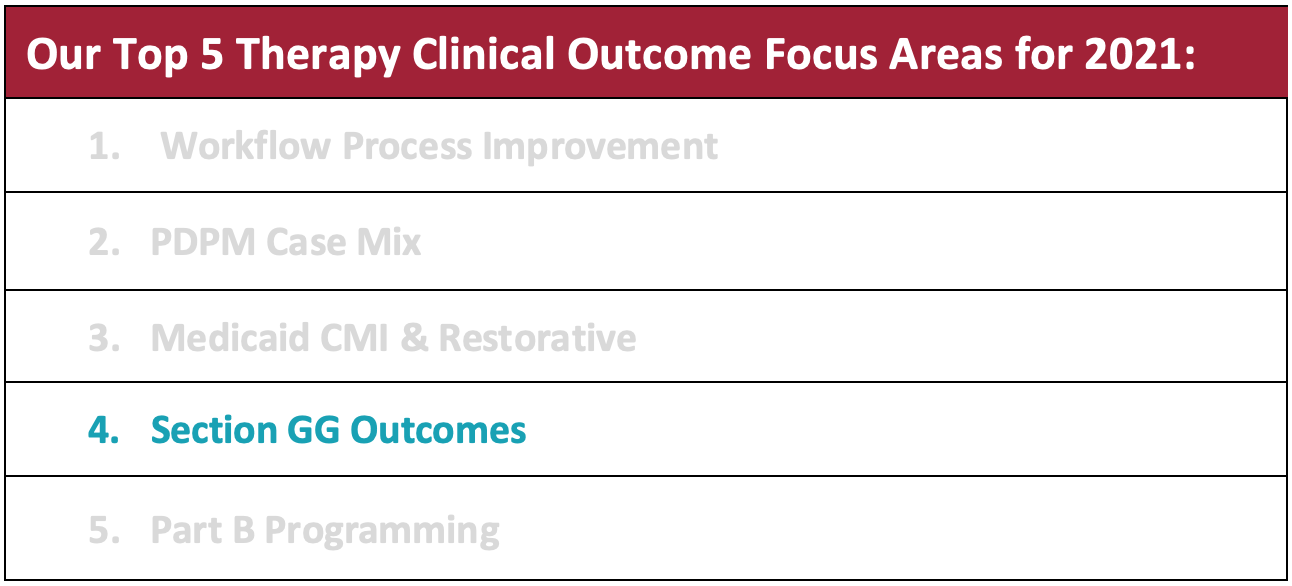 This month's clinical outcome focus area is:
Section GG Outcomes
Analysis of outcomes comes in many different forms. For CMS, outcome data is derived from coding in Section GG of the MDS. As we begin to see more medical review of PDPM claims, we have seen first-hand that section GG and documentation of collaboration of the patient's usual functional performance is the golden ticket to defend our claims. As information and regulatory standards continue to evolve, HTS has concentrated therapist efforts and education to assure training and documentation standards of care align with Section GG regulations and standards.

Improving communication and processes between departments produces the best Section GG accuracy. The top three ways to improve Section GG Coding include:
1) Therapy use of the HTS Business Intelligence functionality via Net Health's (formerly known as Optima) operating system provides a detailed analysis of the Section GG Daily Dashboard. This information is then used at the site level to identify facility-specific process improvement initiatives. The dashboard also allows the user to drill to the patient level, identify trends and/or outliers, and action plan as clinically indicated.
2) Facility staff rounding for OBRA ARD communication between the MDS and therapy department will be fine-tuned to assure best GG coding practices across all payors. To meet the state requirements for GG collection for OBRA assessments, processes to collect this information should be effectively communicated. We recommend that all IDT work together when possible, to code usual GG performance. When the therapy assessments align with the ARD, therapists can then contribute GG information for Med B, MGD B, Medicaid, and Private Pay so that collaborative coding is achieved.
3) Review of RAI item set definitions to master the intent of each GG item being coded. HTS encourages all section GG contributors to familiarize themselves with the item set definitions so that coding is as accurate as possible. This review is important because it helps secure proper reimbursement for the care being provided by your team.
For example, per the RAI, the admission assessment for wheelchair items should be coded only for residents who used a wheelchair prior to admission. If the patient did not use a wheelchair at prior level of function and declined in the hospital which then required the use of a wheelchair in the SNF, section GG0110 (prior device use) would be coded as "no." This is coded as such since GG0110 is indicative of use prior to the current illness, exacerbation, or injury. Then, if during the SNF stay the resident is not learning how to self-mobilize using a wheelchair, the 5-day assessment for wheelchair use would also be coded as "no." This then elicits a skip pattern on the MDS, no goal would be applied, and the answer would remain "no" on the discharge assessment.
As we continue to learn more about medical review focus areas, denials based on lack of supportive GG documentation continues to be an area for improvement. Good communication and processes are imperative to support your coding decisions.
Need a Powerful Therapy Partner? Contact Amanda Green, Executive Director of Strategic Development amanda@htstherapy.com for information about our contract therapy partnerships.
https://www.htstherapy.com/wp-content/uploads/2021/06/shutterstock_404545753-2.jpg
562
1000
htstherapy
https://www.htstherapy.com/wp-content/uploads/2016/05/HTS-logo.png
htstherapy
2021-06-18 13:07:09
2021-06-28 10:55:37
Top 5 Therapy Clinical Outcome Focus Areas – Part 4 of 5: Section GG Outcomes