Inspiring Hope. Restoring Function. Renewing Spirit.
Providing physical, occupational and speech therapy in the post-acute and hospital settings is challenging and ever changing.  Our clients look to us to not only maintain exceptional clinical collaboration and outcomes, but also to be a trusted partner in helping their organizations perform better. Since 1988, HTS has been an independently owned, trusted, ethical provider of therapy services for senior living communities, home health agencies and hospitals.
Therapist owned and managed, our mission is to provide the very best people and programs to move our clients and employees forward so that together we can provide a "hope and a future" Jeremiah 29:11 to those we serve. We have grown from a single provider (who has been a longstanding client since 1988) to a company employing over 1,800 therapists in the Midwest and Southern states.
From Day 1, our goal was to serve.  Healthcare Therapy Services, Inc. was formed in 1988 in response to a rapidly changing long term care industry.  The goal was to serve rural providers with affordable, quality enriched physical, occupational and speech therapy services.
Barry Chatham, SLP, HFA started HTS with nearly 30 years of prior experience at the national level. His vision was to build a company rich in Christian values and steadfast to ethical practices.   Our culture was built on the cornerstone of recognizing the inherent value of every person. With this in mind, Barry Chatham and his wife Judy chose Jeremiah 29:11 to be the hallmark of our mission statement, "to provide hope and a future" to each person we serve.
HTS is owned by Barry Chatham and his two sons, Steve Chatham, Vice President of Operations & Brian Chatham, Vice President. They have worked at HTS since the beginning and continue to serve as active co-owners.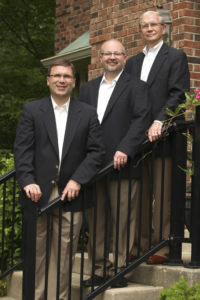 The owners of HTS from left to right: Brian Chatham, Steve Chatham & Barry Chatham
Our Core Values reflect the principles and foundation of how we perform our work and how we conduct ourselves.  These values are the undercurrent of our programs, training and philosophy that support our care delivery.
Innovation
Innovation is about discovery, fostering creativity and finding new ways to deliver exceptional patient care. Innovation is about staying tuned in and ahead of what's coming while looking at each person individually and thinking outside the box to glean the best outcomes.
Community
The success of HTS is largely attributed to the relationships that each therapist has within the community they serve.  Each relationship will be built on respect, empathy, and integrity.  HTS shall be an advocate as we embrace our role as clinical representatives in our community focused on restoring lives and promoting initiatives for wellness, health literacy and education.
Hope
We will offer the hope of recovery and a plan for the future based on the foundation of clinical expertise and realistic goal setting for each individual in our care.  We will see the full potential for each and every person we serve and work tirelessly to help them achieve their greatest outcome.
Stewardship
We shall be responsible stewards of our talent and treasure, through careful planning, cooperation, responsiveness and accountability.
We believe that those individuals who require therapeutic intervention deserve to maximize their level of independence We believe that an interdisciplinary approach is necessary to reach the goals of each of our clients We serve our clients by focusing on his/her physical, communicative, emotional and overall functional abilities We seek to fulfill the total rehabilitative needs of our clients, in their most functional environment
At HTS, we recognize the inherent value of every person. Focusing on our client's abilities, not disabilities, we provide a value added service for each client entrusted to us. It is our mission to be the performance proven and acknowledged industry leader in therapeutic services.
Our aims are fueled by Jeremiah 29:11 in which God speaks, "For I know the plans I have for you, plans to prosper you and not to harm you, plans to give you hope and a future." Recognizing each human being's high calling, we strive to be a part of the ministry of giving hope and a future.

2016  IHCA/INCAL Associate Member of the Year

2015  ACHCA Indiana Business Partner Award

2012 KAHCF Better Life Award
for distinguished service as a vendor

2011 Greenshades
Green Business Award
Healthcare Therapy Services, Inc. has a partnership with the following organizations.  These outstanding companies provide an exceptional level of service to senior living providers in addition to other industries they serve.
A comprehensive health care billing company, Advantage Billing & Consultants provide complete billing services, billing experts and consultants to assist and educate the billing personnel for health care providers nationwide.
Contact Information:
Phone: (317) 591-1125
Email: tlandess@advantagebill.com

Proactive is your partner in Medical Review
Proactive offers medical review solutions for long term care and rehabilitation service providers.  Based in Evansville, IN Proactive has extensive experience working with medical review departments of CGS (Kentucky & Ohio MAC part A) and NGS (Indiana, Illinois, Michigan, Wisconsin part A Fiscal Intermediary) managing both complex review and appeals of Medicare claims.
Contact Information:
Phone: (812) 471-7777
Fax: (812) 471-7802
Email: info@proactivemedicalreview.com
Healthcare Therapy Services, Inc. has a partnership with the following organizations.  These outstanding companies provide an exceptional level of service to senior living providers in addition to other industries they serve.