In today's high-risk environment, maintaining compliance, quality and performing with solid ethics is vital to the success of our industry. In order to fulfill our mission to provide a "hope and a future" to those we serve, we must protect, guide and foster excellence at all levels.
We are proud to be considered by our partners and therapists as an ethical and trusted partner, with high standards in practice, proactive risk mitigation and compliance. We work diligently to protect and prepare our partners by staying ahead of industry and regulatory changes while remaining fluid for quick implementation.
The HTS Quality and Compliance Program is built with a strategic focus on the following key areas…

Focused on Outcomes
HTS has a dedicated outcomes team to streamline workflow and maximize clinical opportunities. Business Intelligence (BI) software is used to analyze key data for facility specific reporting. HTS benchmarks provider data against national peers to measure key performance indicators against internal and external standards.
HTS creates highly visual and interactive dashboards of performance in key operational areas. This information is used to analyze operational, clinical and financial data efficiently.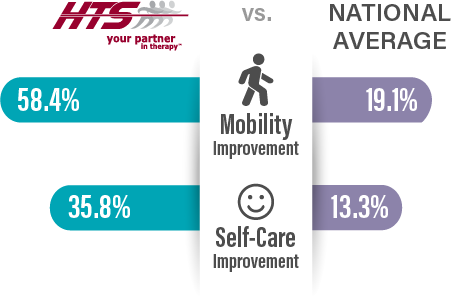 This data is derived from the Net Health Therapy Documentation System. Patients are scored at start and end of care to measure improvement and includes 15 mobility and 7 self-care data points. Patient outcomes are benchmarked against thousands of therapy patients nationally.
Robust Data Analytics
HTS uses Net Health, a fully integrated therapy management software system specifically designed to help contract, in-house and outpatient therapy providers effectively operate and manage all facets of their therapy business. This system has various features that improve the delivery of therapy and provides integrated capabilities to handle the complexities of compliance and regulations. Net Health fully integrates with most EMRs including PointClick Care, Matrix Care and many others.

Quality Assurance
To ensure the highest ethical practices, HTS understands that compliance is vital to the wellness of your organization. We have partnered with nationally renowned Proactive LTC Consulting as an independent, third-party to ensure compliance with regulatory standards, continually monitor coding and documentation accuracy, and promote measurable care excellence.
Focused on continual quality improvement, HTS and Proactive work together to provide our partners and therapy teams with the ultimate support in risk assessment areas, medical review services in addition to staff development and coaching.

Managing Medical Review/Denials
HTS has an extensive pre-bill audit program performed on 100% of all therapy claims. This greatly improves accuracy and reduces the risk of denials of both Medicare and Managed Care claims. We prevent recoupments through extensive education at all levels and careful monitoring of billing and medical review trends.
HTS delivers comprehensive assistance to our partners in cases of ADR or denial, taking charge of ADR management and offering unwavering support for recoupment efforts. Notably, our continuous success rate at the ALJ level stands impressively at 98%.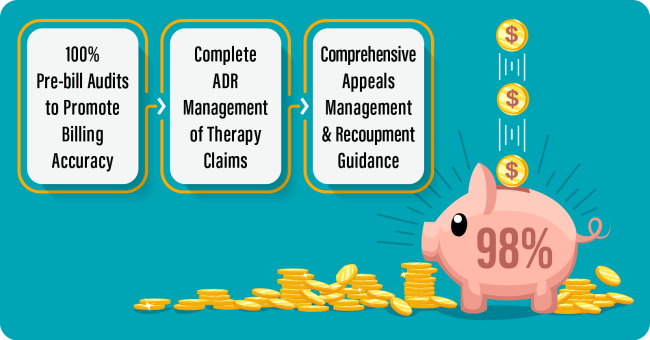 Compliance Reporting
HTS has a dedicated compliance officer and oversight committee dedicated to ethical practice. Our therapists and partners have 24/7 access to a compliance hotline and confidential reporting.
HTS as your Therapy Partner
For information about our contract therapy partnerships...
© Copyright 2022 - Healthcare Therapy Services, Inc.