Top 5 Clinical Outcome Areas for 2021: Part 1

Looking back from 2020, the start of this New Year has been more reflective than most. As an organization, fully "seeing 20/20" in 2021 has been made possible by the clarity gained through the experiences and challenges we all faced last year. In 2020, we relied more on our clinical knowledge than ever before to develop creative solutions for staffing, in-room treatments and utilizing tele technology–all while emphasizing the patient-centered delivery model. Although it is likely that 2021 will bring similar challenges as those from last year, as an industry we know what we are capable of accomplishing. We are also now better equipped to overcome COVID-19 related obstacles with the use of exponentially expanded partner and therapist toolkits, policies, and procedures.
We at HTS have identified the top 5 therapy clinical outcome focus areas for 2021 to improve processes and clinical delivery across the IDT.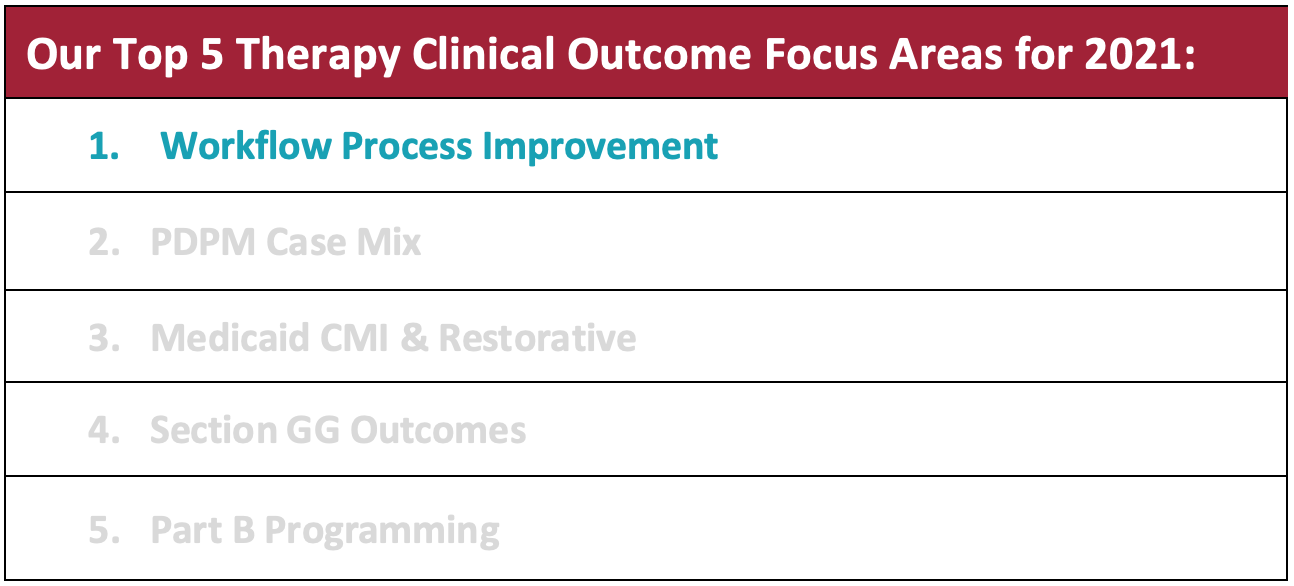 This month's clinical focus area is:
Workflow Process Improvement
Optimizing processes for workflow improvement allows organizations to work smarter and more efficiently. This can be as simple as reducing redundant information sharing to using static agendas and communication tools.
HTS supports our valued partners with a "best practice" workflow system analysis. Our HTS management team is uniquely positioned to facilitate workflow processes to allow more efficient identification for educational and training opportunities. These action items are then used to drive process improvement with the facility's interdisciplinary team.
Check out the top 3 ways your building can enhance processes for maximum efficiency and coding accuracy. Use of these HTS tools and resources are available exclusively for HTS partners.
1.  Use of the HTS Preadmission Screening Tool
The HTS PDPM Pre-Admission Evaluation Tool is a 3-page screening document that assists care coordinators in capturing clinically indicated patient characteristics to attain a projected PDPM clinical category and per diem rate (available via a rate estimator). This is a great guiding tool for admissions and clinical liaisons to use while gathering information from the hospital record. This tool also assures accuracy with coding. Our interdisciplinary teams have found this tool to be especially useful when capturing NTA comorbidities and CMG classification.
2.  Formalized Meeting Guides
PDPM implementation required system adaptation and modification for success. The PDPM Initial Medicare Assessment Meeting Tool is highly recommended to bring the team together for a guided, patient-specific clinical discussion. Suggested medical record items for interdisciplinary meeting discussion are recommended and a template for documentation of communicated action items is also provided.
Buildings that have implemented use of this specific tool have observed a marked improvement in the quality of communication. Additionally, they specifically saw an increase in timeliness when querying the physician and an improved ability to capture NTA comorbidities. Providing a standardized and formalized platform to determine usual performance for Section GG has also streamlined consistency across the record. Our partners agree this is definitely a "must have" for PDPM meetings.
We also recommend use of a weekly Medicare Meeting Form to provide a more structured, formal discussion of patient specific clinical complexities. The HTS Medicare Meeting Form which was revised in 2020 paired with use of the Medicare Meeting Discussion Guide ensures all attendees are present, timely, and prepared to stimulate discussion with the team.
3.  Optimization of IDT Communication to Achieve Consistency Across the Medical Record
"Consistency across the record" is one big component all providers strive to achieve. This consistency is primarily accomplished by effective interdisciplinary communication. MDS coding lacking supportive documentation puts a claim at risk for medical review, which could negatively impact reimbursement.
Rate setting, captured by coding on the MDS, involves a team approach to integrate systems in order to achieve reimbursement appropriate for the patient's clinical complexities. For example, Section GG requires multiple disciplines between days 1-3 to determine the usual functional performance. Simply attaining function scores from one discipline, such as only nursing or only therapy, puts the claim at risk for medical review. Furthermore, coding that is not supported by documentation within the chart is another risk factor for medical review.
Since Section GG contributes to 3 of the 5 components of the PDPM rate, effective GG function score procedures are imperative for success under PDPM. Some great solutions are available within the Section GG Workflow Resources section of our PartnerHQ portal. Tools such as the Function Score Quick Tips are also available to optimize processes in your building to minimize medical review risk and achieve consistency across the medical record.
Need a Powerful Therapy Partner? Contact Amanda Green, Executive Director of Strategic Development amanda@htstherapy.com for information about our contract therapy partnerships.
https://www.htstherapy.com/wp-content/uploads/2021/06/shutterstock_1421844317.jpg
667
1000
htstherapy
https://www.htstherapy.com/wp-content/uploads/2016/05/HTS-logo.png
htstherapy
2021-06-03 06:00:47
2021-06-03 00:07:14
Top 5 Clinical Outcome Areas for 2021: Part 1