Meet Denise Johnson, PT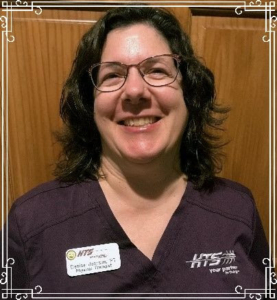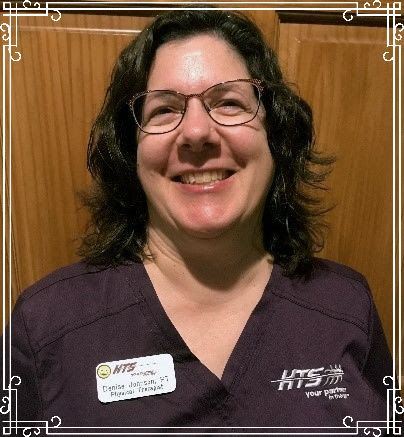 Denise brings with her several years of field experience and a somewhat new accolade: Teletechnology Delivery Service Mode Expert. It all started back in September with a SNF COVID-19 outbreak. Implementation of telehealth as a service delivery mode became imperative after the outbreak and Denise led the charge! Denise, like many other HTS therapists, provides therapy at a few buildings. As we know all too well, due to the PHE, many facilities have implemented policies prohibiting therapists to work at mulsites in order to mitigate exposure of contagion. These types of (necessary) policies and the need for therapeutic services in a building with a COVID-19 outbreak furthermore illustrated the need for Telehealth.
So, how did Telehealth implementation begin? After the administrator of the building was made aware and approved Telehealth as a service delivery mode, the therapy team went to work on logistics. Per Denise, this is the biggest challenge with Telehealth Services. Consent forms must be received prior to treatment. Brian Kemp, PTA at Southfield Village suggests use of a binder so that all of the consent forms can be tracked and kept in one place. Once the consent form is signed and received, the person at the other end of the camera with the patient must then play their part in order to effectively provide a Telehealth session. Most often this person is a PTA/COTA. However, depending on your facility's staffing and policy, other facility staff members are also able to fill-in. "Things like getting the camera angle right and assuring the patient is able to hear you is imperative and contributes to the effectiveness of your skilled therapeutic session" says Denise. As a seasoned PT working with Telehealth, Denise's main concern with the newly available platform being used (Zoom) is those patients suffering from dementia. Patients with poor or limited participation poses its own set of challenges. However, for the most part, telehealth has worked and bottom line, although most therapists prefer visits to be face-to-face and hand- on, Telehealth provides an acceptable alternative to provide coverage to a population who needs it.
When specifically asked about the benefit of Telehealth as a service delivery mode, Denise emphasized and thanked the PTAs and COTAs she has worked with. For example, a therapist providing Telehealth is unable to look to quantify edema in the legs, accurately observe when a patient goes sit-to-stand, or if there is a retro bias when the patient is standing. The therapist on the other side of the Zoom video call may be missing firsthand on these clinical components and are heavily reliant on the person on the other camera who is with the patient to pick-up on these types of observations. What's the silver lining? Well, according to Denise, the nice thing is that the therapy assistants she has worked with are even more in-tune with the global picture of what is trying to be achieved during evaluations and supervisory visits. This results in more accurate documentation and effective treatment sessions.
---
Past Stories From the Field can be found on the HTS Portal. Have a great "Hoping & Coping Story from the Field " you would like to share with fellow HTS therapists?
Email Sheena Mattingly, Director of Clinical Outcomes at sheena@htstherapy.com for your chance to be featured in a "Story from the Field!"
https://www.htstherapy.com/wp-content/uploads/2020/10/Screen-Shot-2020-08-24-at-10.48.56-PM-2-845x321-1.png
321
845
htstherapy
https://www.htstherapy.com/wp-content/uploads/2016/05/HTS-logo.png
htstherapy
2020-11-19 21:51:47
2020-11-19 21:51:47
Stories from the Field