Top 5 Therapy Clinical Outcome Focus Areas Part 2 of 5: PDPM Case Mix

HTS has identified the top 5 therapy clinical outcome focus areas for 2021 based on our experiences from 2020 which makes us better equipped to overcome COVID-19 related obstacles. Furthermore, after attending a 15-hour training and certification process, HTS management staff have all become "PDPM Masters." These additional "feathers in our cap" allow us to uniquely champion process improvement initiatives alongside your interdisciplinary team. As HTS continues to identify opportunities for clinical growth, a key process improvement area will be discussed each month.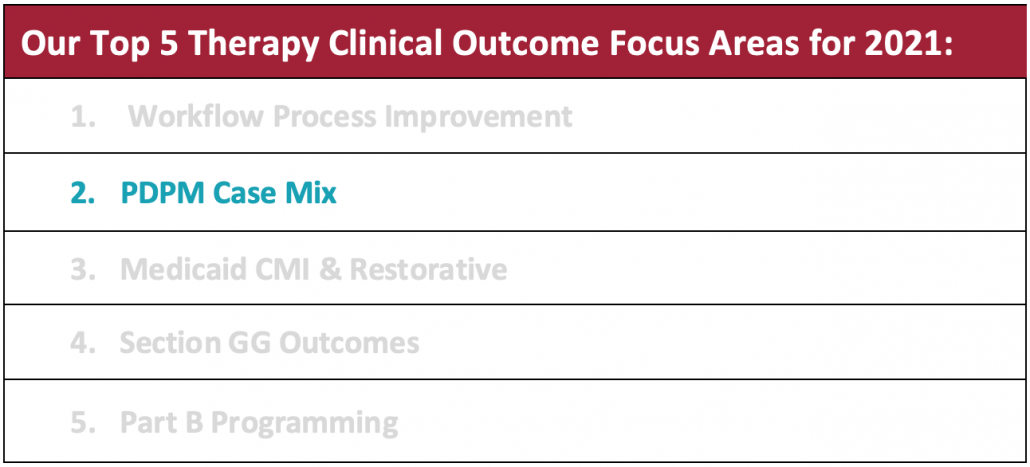 This month's clinical outcome focus area is:
PDPM Case Mix
"It's not enough to be providing excellent patient care anymore. Under PDPM, if you don't code correctly on the MDS, you're not going to get credit for it." – Sheena Mattingly M.S., CCC-SLP, RAC-CT, HTS Director of Clinical Outcomes.
HTS has identified 5 areas of opportunity to improve PDPM Case Mix. Let's take a deeper-dive by discussing the 5 areas of attack to optimize PDPM case mix classification coding.
1.  Assure good communication and collaboration of the function score (Section GG) which drives the nursing, and PT/OT CMG classification.
At this point we are all aware of Section GG's impact on Medicare reimbursement under PDPM, but odds are we still need some fine tuning. Review current processes for attaining Section GG coding to assure IDT collaboration of usual performance is documented and available within the medical record. Section GG is of utmost importance not only for PDPM reimbursement but also for Quality Measures, SNF QRP, and 5-Star Rating.
2.  Review your facility's process for querying the physician to capture any coding opportunities. HTS recommends use of our Initial Medicare Meeting Tool.
Imagine this all too familiar scenario, the speech-language pathologist (SLP) in your building identifies a newly admitted patient has aphasia. This SLP then brings this information to the Initial Medicare Meeting and presents her findings. The IDT agrees and proceeds to query the physician for a diagnosis so that the aphasia is considered active within the 7-day lookback period and can be coded in section I4300 of the MDS. This example of excellent communication results in a more accurately coded MDS that is reflective of the patient's clinical needs. More specifically, the coding opportunity identified is counted as a SLP-Related Condition in the SLP PDPM "bucket" which is directly tied to PDPM reimbursement.
3.  Use the HTS IMA SLP Component Communication Tool.
This tool is to be assigned to be completed by a SLP or an OT. It is designed to be used to identify potential coding opportunities from the SLP's or OT's skilled perspective. The opportunity can then be presented to the IDT for discussion. Prior to PDPM, components such as Section K of the MDS or coding of a mechanically altered diet did not correlate to a rate setting. Now, we do get "credit" for these types of clinically indicated coding opportunities which means communication is key.
4.  Use the HTS Nursing Case-Mix Classification Quick Tip Handouts which is available to HTS Partners on the PartnerHQ Web Portal.
Each nursing component Quick Tip Handout is paired with a HTS High Impact Webinar available on demand on the PartnerHQ Web Portal. For example, when reviewing the Special Care High Quick Tip Handout, you will see that a commonly overlooked classification item may be a patient with COPD. If this patient has shortness of breath while lying flat and this is documented within the medical record, this patient would classify as Special Care High versus Physical Functioning. There are several Quick Tip Handouts. They are a one-page resource that aide in familiarizing yourself with the details of the components for each nursing classification.
5.  Rely on the HTS therapy department for key performance indicator data analysis.
HTS Therapy Rehab Managers use a PDPM Analytic Business Intelligence Dashboard which is powered through Net Health Therapy (formally known as Optima). This report is pulled on a weekly basis to identify areas of opportunity. An action plan is then discussed with the therapy team and the HTS Regional Director is also consulted to drive process improvement. Key performance indicators analyzed include but are not limited to:
PDPM Covered Day Count and Patient Count
Case Mix Group Distribution
Treatment Minutes per Visit
PT/OT/ST B Units per Visit
Section GG Outcome Data
Need a Powerful Therapy Partner? Contact Amanda Green, Executive Director of Strategic Development amanda@htstherapy.com for information about our contract therapy partnerships.
https://www.htstherapy.com/wp-content/uploads/2021/06/shutterstock_1131877814.jpg
466
1000
htstherapy
https://www.htstherapy.com/wp-content/uploads/2016/05/HTS-logo.png
htstherapy
2021-06-03 06:00:03
2021-06-03 00:08:23
Top 5 Therapy Clinical Outcome Focus Areas Part 2 of 5: PDPM Case Mix