Hoping & Coping:  Smiling Faces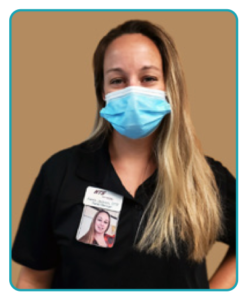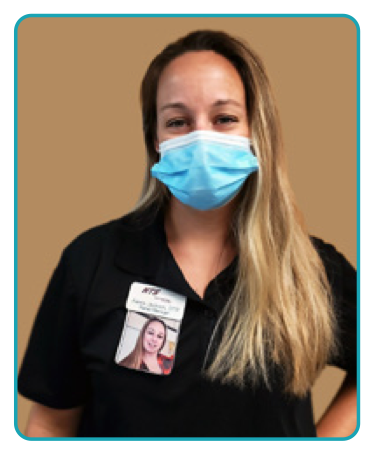 This story from the field focuses on the new "HTS Hoping & Coping Series". This series emphasizes all the wonderful HTS therapists and the extraordinary lengths taken to assure quality services and patient well-being are maintained during the PHE.
Meet Alexis Jackson, OT and Rehab Manager at Good Sam Home in Evansville, Indiana. Alexis found herself reimagining the work environment during the PHE after watching the May "HTS Lunchtime Learning: COVID-19 & The New Normal". That very afternoon, Alexis knew The Smiling Faces Initiative described on the webinar was one that would improve morale at Good Sam Home. Smiling face nametags encourage facility staff members to post pictures of themselves on their nametags so that patients are able to more easily identify them and, of course, see their smiling faces! This initiative eliminates a created barrier, real or perceived, between staff and patients. "I feel strongly that our patients deserve to see who we are in order to make a connection that is needed to deliver quality therapy" said Alexis Jackson, OT.
Alexis and the Good Sam Home therapists were the drivers of The Smiling Faces Initiative. Their mission was to bring out smiles from underneath masked faces. First, Alexis trolled Facebook and found pictures of each therapist. Then, after the pictures were included on their nametags, the therapy team began wearing them on a daily basis. "Once we therapists starting wearing smiling face nametags, the initiative just took off!" said Alexis. Soon the facility's DON, Admission's Coordinator, Nursing, and Staff Development Coordinator were all wearing a smiling face nametag. We can all use a few more smiles and thanks to the Good Sam Home therapy team, patients are now getting them!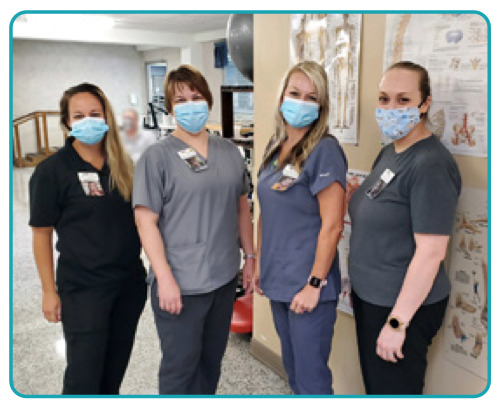 From left to right: Alexis Jackson, OTR/L, Sherri Moore, PTA, Becky Williamson, COTA/L, Rachel Runyon Lortie, OTR/L.
---
Past Stories From the Field can be found on the HTS Portal. Have a great "Hoping & Coping Story from the Field " you would like to share with fellow HTS therapists?
Email Sheena Mattingly, Director of Clinical Outcomes at sheena@htstherapy.com for your chance to be featured in a "Story from the Field!"
https://www.htstherapy.com/wp-content/uploads/2020/08/Screen-Shot-2020-08-24-at-10.48.56-PM-2.png
378
1770
htstherapy
https://www.htstherapy.com/wp-content/uploads/2016/05/HTS-logo.png
htstherapy
2020-08-25 06:22:48
2020-08-25 06:22:48
Stories from the Field