The Key to Successful PDPM Transition Navigation

The transition to PDPM will be on October 1, 2019 resulting in a "hard stop" of RUG-IV on September 30, 2019. Strategies for a successful transition include:
Development of a plan for data collection for IPA look-back periods which may creep back into September dates of service.
Completion of a triple check process to assure COTs are accurate and completed (missed COT will be provider liable).
Assuring no principal diagnoses map to "return to provider".
Collection of section GG interim performance data.
Completion of resident interviews on or before the transitional IPA ARD.
Optimization of processes to code diagnoses for Nursing, NTA, and SLP components accurately.
A transitional IPA will be required for each Medicare A resident present in the facility on October 1, 2019. Transitional IPAs are not to be confused with an IPA. See below for key differences: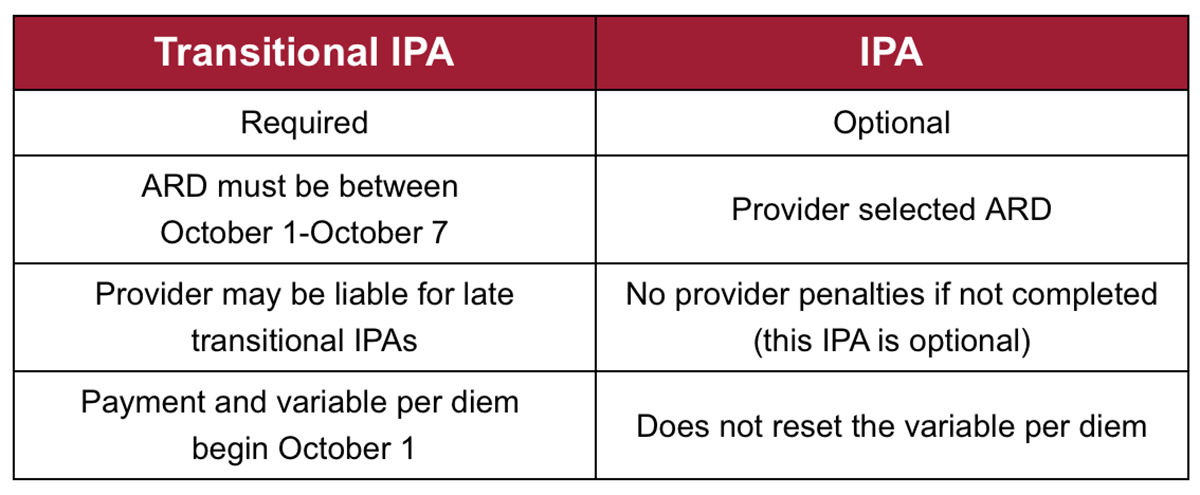 Click here for the Variable Per Diem Adjustment Factor Fact Sheet.
Transition to PDPM Example
Admission Date: 9/22/19  |  5 Day ARD: 9/29/19  |  Transitional IPA ARD: 10/4/19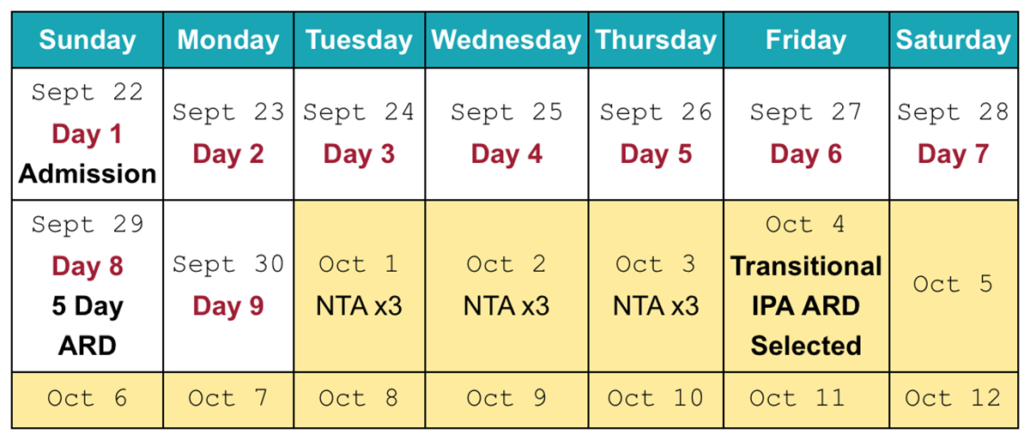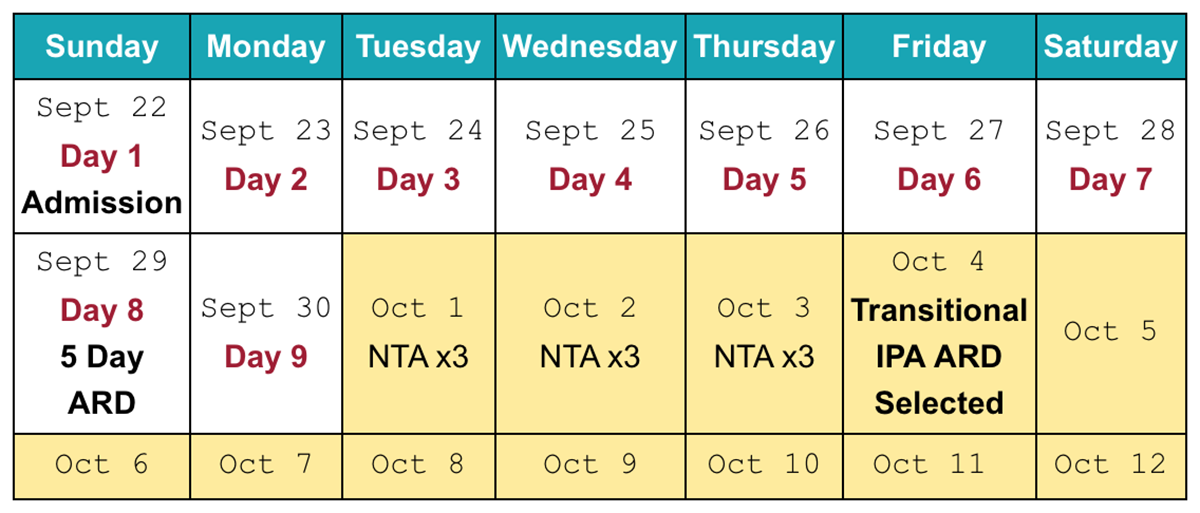 Source: McGill J., (Producer). (2019). Strategies for PDPM transition and IPAs [Video Webinar].
Retrieved from www.aanac.org
RUG-IV will be used for payment for admission of 9/22 through 9/30.
Payment for the transitional IPA begins 10/1 and continues through the end of the Medicare stay unless another IPA is done.
The Transitional IPA ARD window is October 1-7. The provider may select any of these 7 days.
For this example, the transitional IPA will be 10/4.
The variable per diem begins 10/1.
The NTA is adjusted by 3.0 for Oct 1-3.
PT/OT component will not decrease by 2% until Oct 21.
Successful transition to PDPM will undoubtedly involve optimization of efficiency in providing care and improving patient outcomes. It's never too late to reassess and tweak your facility's operational strategies to get ready for the transition. Don't know where to start or stuck on a process change solution? Contact your HTS Regional Director or the HTS Director of Clinical Outcomes today!
https://www.htstherapy.com/wp-content/uploads/2019/08/Industry-News-header-02.jpg
670
1762
htstherapy
https://www.htstherapy.com/wp-content/uploads/2016/05/HTS-logo.png
htstherapy
2019-09-11 16:15:55
2019-12-19 15:40:39
The Key to Successful PDPM Transition Navigation