Top 5 Therapy Clinical Outcome Focus Areas Part 5 of 5: Part B Programming

HTS has identified the top 5 therapy clinical outcome focus areas for 2021 based on our experiences from 2020 which allow us to uniquely identify opportunities for clinical growth.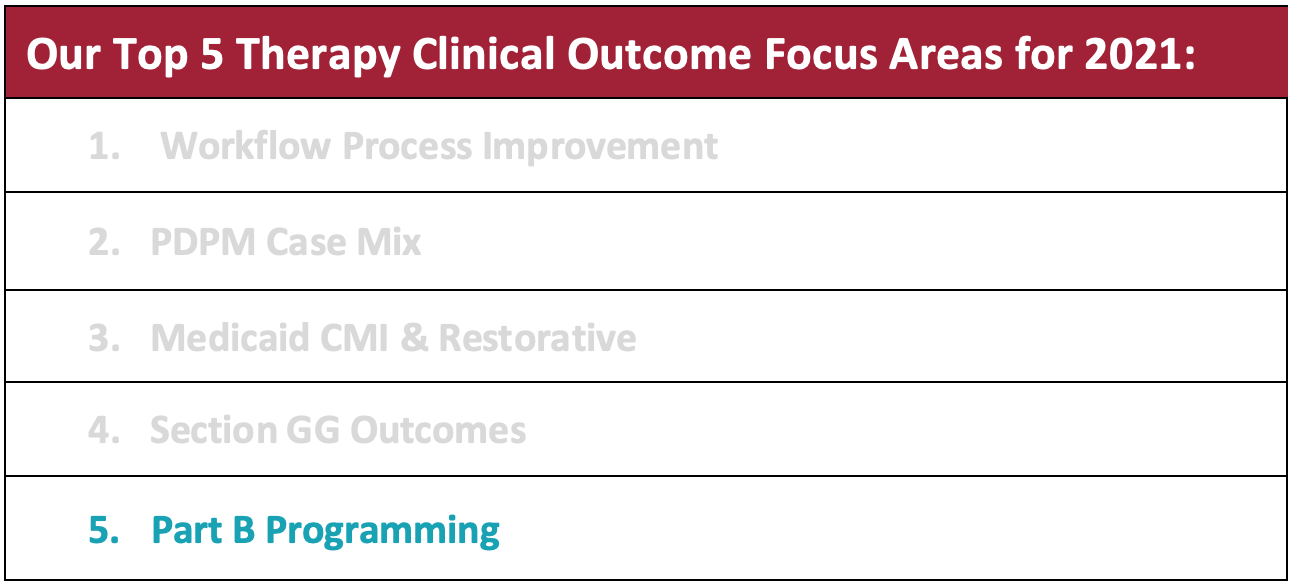 This month's clinical outcome focus area is:
Part B Programming
One of the many challenges faced during the Public Health Emergency in 2020 included keeping up with the federal, state, and facility specific protocols and strategies to mitigate the risk of exposure to COVID-19. However, with vaccinations and new processes in place based on evolving regulation, utilizing Part B Programming has become less restricted and more able to be optimized. HTS has prioritized 5 ways to maintain quality part B programming in your facility.
1) Take a Deep-dive into Your CASPER
Quality Measures (QMs) are a rich source of information that are recommended to be monitored on a routine basis to assist with quality improvement. QMs directly impact survey results, can influence referral sources and partnerships, and could even be a factor for pay-for-performance which may be where the future is headed. QMs are based on indicators of the outcome of resident care based on resident specific information from MDS assessment information as well as a few claim-based measures.
QM reports are available through the CASPER report system. The CASPER Report MDS 3.0 Resident Level Quality Measure Report identifies all residents, active and discharged, who were included in the QM calculations. The report indicates which, if any, QMs were triggered for each resident. This serves as an important tool that facilitates detailed record review of residents. The information may be used in QAPI activities, survey process, and to potentially identify rehab need.
2) Utilize a Systematic Approach for Therapy Referrals
We have seen the most success when there are streamlined processes for referring to therapy when changes in function are identified prior to the completion of the MDS. Ideally, the quarterly schedule is distributed to the IDT so that there is adequate time for thorough screening, a physician order, and completion of therapy evaluation(s) before the onset of the assessment period.
For example, the MDS coordinator would distribute the quarterly assessment schedule at least two weeks in advance of the assessment period.
Then, therapy performs the direct screen as well as collaborates with the IDT to identify any areas of change or skilled need.
For patients identified as appropriate for therapy services, the physician's order is obtained and therapy is scheduled to successfully be captured on the MDS as clinically indicated.
3) Look for Change in Function Through MDS Review
The MDS has several sections that are helpful when identifying potential rehab need. Comparing the last two most recent assessments for change in function is an additional screening strategy that can be used in conjunction with the preferred streamlined referral process. The information can also be used as supportive documentation which can then lead to a request for a physician's order for a therapy eval and treat as indicated.
Sections of the MDS that can be used as supportive documentation for rehab orders (if change is observed) include Sections B, C, GG, H, I, and K.
SLP focus example: there are a few sections that can help a SLP identify rehab need. Section K codes for swallowing and nutrition and also weight loss of 5% or more in the last month or 10% or more in the last 6 months.
Section K0510C is of particular importance for SLPs. In this section, it is made known if the patient has had a change in texture of foods or liquids. If there has been a recent downgrade, this is something to consider when selecting patients for screening purposes.
Some MDS software even have reports that can show any diet downgrades that have occurred in a specified timeframe. This orders report that is filtered by diet changes at the resident level serves as another great screening tool.
4) Implement HTS Proprietary Clinical Programming and Pathways
HTS clinical programs are created and introduced in pace with the expanding needs and legislative changes of our industry. Guiding principles for program creation are contingent upon an IDT approach, person-centered care delivery, quantitative research, and quality measure improvement.
Examples of HTS Clinical Programs & Pathways are available below:

The 3 Most Recently Developed HTS Clinical Programs
COVID-19 Recovery
Most recently, HTS has created a Post COVID-19 Rehabilitation Program. This program was developed by HTS clinical staff in response to a large need of individuals who have recovered from COVID-19 and are experiencing lingering health issues. Ideally, outpatients and long-term residents who have recovered from COVID-19 would benefit from this type of therapeutic intervention.
Fall Prevention
STEADY: Comprehensive Therapy Approach to Fall Prevention was designed to provide the best tools and evidenced-based practices to reduce resident falls and improve safe movement.
Therapy-driven program utilized by PT, OT, and ST
Reviews 12 areas that lead to falls
Use of evidence-based assessments and interventions
Patient and caregiver education is a vital component
Quality Measures
Star Quality Improvement Program
Therapy expertise and intervention is a key factor in improving quality. Therapy can have a direct impact on quality and outcomes. The HTS Star Quality Improvement Program focuses on utilizing rehab services to assist in improving specific quality measures. Currently, facility ratings are based on the performance of specific quality measures that are listed on the CMS Care Compare website, previously known as Nursing Home Compare.
Modules include:
ADL
Mobility
Pressure Ulcer Prevention
Physical/Medication Restraint
Pain Treatment
Falls
Weight Loss
Discharge to Community
Therapy driven IDT programming, pathways, and education facilitate quality HTS Part B Programming
HTS therapists are equipped with clinical programs, pathways, and therapy specific education modules to address functional declines in your building. HTS e-Academy has two on-demand webinars available to HTS therapists to facilitate robust Part B Programming. These webinars are entitled "Quality Part B Programming for SNFs" which includes strategies for physical and occupational therapists and "Quality SLP Part B Programming." Both webinars include a step-by-step guide to process improvement for your part B caseload as well as all the resources needed to accomplish successful program implementation.
5) Review Benchmarking and Trends with Quality Part B Reporting
HTS Therapy Rehab Managers and Regional Directors use Business Intelligence (BI) which is powered through Net Health Therapy (formally known as Optima). BI reports are pulled on a weekly basis to identify areas of opportunity. Action plans are developed and implemented with the IDT as warranted. Key performance indicators specific to Part B patients include but are not limited to:
PT/OT/ST B units per visit
Percent of long-term residents receiving therapy services
GG outcomes
Average length of stay by payor
Average length of stay by diagnostic category
These 5 solutions to maintain quality part B programming allow HTS therapists to continue to provide function focused, patient-centered care based on medical necessity. The high caliber of clinically driven HTS therapists paired with HTS Part B Programming and report interpretation uniquely positions us to care for your residents.
Need a Powerful Therapy Partner? Contact Amanda Green, Executive Director of Strategic Development amanda@htstherapy.com for information about our contract therapy partnerships.
https://www.htstherapy.com/wp-content/uploads/2021/07/HTS_part5-copy.jpg
2400
1000
htstherapy
https://www.htstherapy.com/wp-content/uploads/2016/05/HTS-logo.png
htstherapy
2021-07-21 06:56:44
2021-07-27 10:08:14
Top 5 Therapy Clinical Outcome Focus Areas Part 5 of 5: Part B Programming