Pulmonary Therapy Interventions for COVID-19 Patients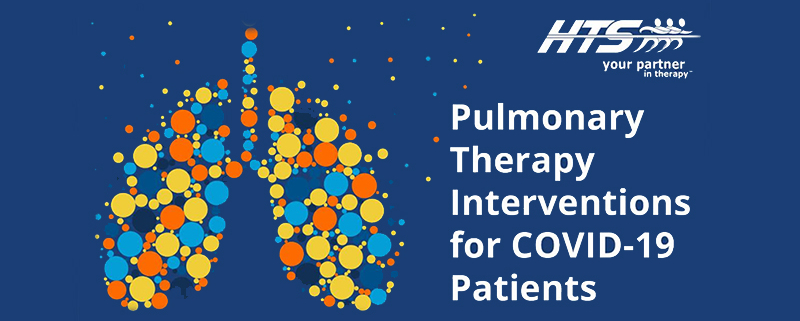 HTS is excited to launch Breathe: A Pulmonary Intervention Program supported and directed by physical and occupational therapists. Breathe is focused on Percussion and Postural Drainage Therapy also known as chest physical therapy. Therapy interventions can be beneficial in the respiratory treatment and physical rehabilitation of patients with COVID-19, COPD, Pneumonia, Bronchitis, Asthma, ARDS, Lung Cancer and many other respiratory conditions.
Postural Drainage Can Help Patients Breathe Better!
Postural drainage can help treat breathing problems due to inflammation and mucus in the airways of the lungs. Postural Drainage Therapy uses percussion, gravity, vibration, and deep breathing to loosen and drain mucus from the lungs and stimulate a productive cough to clear airways. Unclogging the airways is vital to keeping lungs healthy.
Promote Drainage of Mucus and Secretions
Stimulate a Productive Cough
Optimize the Efficacy of Adjunctive Treatments, such as Inhaled Bronchodilators or Antibiotics
Improve Oxygen in the Body
Decrease the Risk of Chest Infection, such as Pneumonia
HTS Therapists are equipped with the knowledge and training to provide this critical treatment intervention to help patients breathe better!
For more information about the HTS Breathe Pulmonary Program, please contact your HTS Regional Director.
https://www.htstherapy.com/wp-content/uploads/2020/05/HTS_Pulmonary-1.jpg
475
800
htstherapy
https://www.htstherapy.com/wp-content/uploads/2016/05/HTS-logo.png
htstherapy
2020-04-30 07:56:43
2020-05-04 07:57:36
Pulmonary Therapy Interventions for COVID-19 Patients