CMS Requirements of Participation

Are You Ready for the Phase 2 November 28th Deadline?
If you are a skilled provider, you are actively thinking about November 28th.  It is most likely keeping you up at night. For those that are not in the loop, November 28th is the due date for Phase 2 completion of CMS' new requirements for participation. If this is not something you're taking seriously or actively working on well before November, you may want to keep reading.
RoP Summary
On October 4, 2016, CMS published in the Federal Register the final rule on the Requirements of Participation (RoP) that long-term care facilities must meet to participate in the Medicare and Medicaid programs. This rule represents the most comprehensive update to the RoP since the 1990's. CMS explained that the changes to the requirements are needed keep pace with the changes in the industry and assist in the goal of improving the provision of health care and patient safety.
A major theme of the new requirements is person-centered care, with an emphasis of residents and their representatives being informed, involved, and having control. You will see examples of this person-centered emphasis in the care planning and discharge planning requirements. The facility assessment is integrated throughout multiple sections of the RoP. The purpose of the facility assessment is to ensure that facilities have sufficient number of staff who are competent to meet the needs of the population the facility serves and that facilities have appropriate resources to meet the needs of their population on a day-to-day basis and in emergency situations.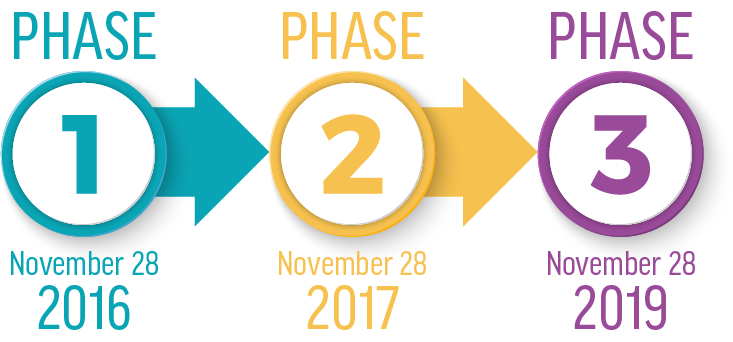 The RoP is effective in three phases:
Phase 1: CMS contends that these requirements are relatively straightforward to implement, and require minor changes to survey process. They were effective November 28, 2016.
Phase 2: Includes the requirements that CMS felt providers need more time to develop and will include a new survey process to assess compliance. These requirements are effective November 28, 2017.
Phase 3: These are the requirements that need more time to implement and may require personnel hiring and training and implementation of systems approaches to quality. Facilities must comply with these requirements by November 28, 2019.
The RoP is expansive and cannot be easily summarized. We expect that CMS will issue interpretive guidance to assist providers in complying with the new requirements.
Although CMS contends the Phase 1 Requirements are relatively straightforward to implement and require only minor changes to the survey process, providers need to review their policies and procedures and make revisions to ensure compliance.
Phase 1 included many obligations regarding admissions, transfer and discharges, care planning, the use of side rails, as well as many updates to resident rights, abuse procedures and definitions, grievance process requirements, and various other changes. It is imperative that facilities evaluate their current policies and procedures, facility postings, and admission process to ensure compliance with the Phase 1 requirements.
To prepare for the Phase 2 implementation date, which is mere months away, facilities should establish a Phase 2 work plan to accomplish the many tasks required for compliance. This will include:
Completing a facility assessment to ensure the facility has the appropriate resources and competent staff to meet the needs of its population.
Developing the written QAPI plan to present to surveys on the next annual survey.
Implementing an antibiotic stewardship program.
And many other changes in current processes which includes a 48-hour initial care plan.



Creating a sound QAPI program is one of the largest components of this task list. If you haven't already, look for Lean Six Sigma and QCP (QAPI Certified Professional) certifications that may be offered through various state and national associations. CMS doesn't specify which method is preferred, but encourages formalized process improvement training in order to implement at successful and integrated QAPI program.
In conclusion, the new requirements have very broad implications on facility operations and administration and facilities will need to allocate additional resources to ensure compliance.  We suggest developing a RoP Implementation Team that is focused on driving a RoP implementation work plan targeted at accomplishing required actions for each phase of implementation. Many of the changes will require updates to policies and procedures, new or revised training, comprehensive systems review, formal notices to residents, and impact daily care processes.

HTS is assisting our clients through this RoP process by partnering with Proactive Medical Review who offers a partnership plan for assisting clients through each phase of implementation. This plan includes a facility-specific needs assessment and detailed implementation guidance, as well as:
Off-site policy and procedure review in each implementation area with redline suggestions for meeting the updated requirements. Policy templates will be provided as needed based on the policy/procedure gap analysis.
Implementation site visit and training options.
Access to our implementation checklists, timelines, and updated resident notices which meet RoP requirements, as well as training tools and resources.
It's an "all hands on deck" world to meet the RoP Phase 2 deadline. We encourage you to act now by seeking proper education and forming your committees and to not wait until September to make this happen. November 28th will be here before you know it.
---
Guest Blog
Article co-written by:


Cassie Murray, OTR/L, QCP
Exec Director of Clinical Operations, Healthcare Therapy Services, Inc.
cmurray@htstherapy.com | 800-486-4449 ext 210

Shelly Mafia, MSN, MBA, NHA, QCP
Director of Regulatory Services, Proactive Medical Review
smaffia@proactivemedicalreview.com  |  812-471-7777
https://www.htstherapy.com/wp-content/uploads/2017/07/RoP.jpg
321
845
marketing
https://www.htstherapy.com/wp-content/uploads/2016/05/HTS-logo.png
marketing
2017-07-27 11:43:07
2017-07-27 11:49:37
CMS Requirements of Participation